Dry blood spot self-test
Measures 11 fatty acids in your blood
Informs about your Omega-6:3 balance
The Zinzino BalanceTest measures 11 fatty acids in your blood, all it requires are a few drops of blood from your fingertip. VITAS Analytical Services in Norway will anonymously analyze the content of 11 fatty acids, which together contributes to approximately 98 % of the fatty acids in the blood. The fatty acids include saturated-, monounsaturated- (Omega-9) and polyunsaturated (Omega-6 and Omega-3) fatty acids. The result is then displayed in zinzinotest.com within 10-20 days. There you will discover your Omega-6:3 balance, your Omega-3 content, a fatty acids protection profile and more. Studies on fatty acids profile of blood have shown that this profile is strongly related to health status.
BalanceTest is a safe dry blood spot test and approved for nutritional studies. The fatty acids profile of blood lipids reflects dietary fat intake, and studies have shown that this profile is strongly related to health status. This is because the blood lipid profile represents the types of fats your body has to build into all cells and tissues, including cell membranes.

After performing BalanceTest you will see these individual results at zinzinotest.com:


Omega-6:3 Balance
Omega-6:3 Balance is measured as the ratio between the Omega-6 arachidonic acid (AA) and Omega-3 eicosapentaenoic acid (EPA). A surplus of Omega-6 fatty acids reveals the diet is unbalanced. The ratio of Omega-6:3 in the body should preferably be below 3:1, and if the ratio is above 3:1 a change in your diet is beneficial. A low Omega-6:3 Balance is important for maintaining normal cell and tissue development.
Omega-3 level (EPA+DHA)
The Omega-3 level is the combined percentage value of the Omega-3 fatty acids EPA and DHA out of the total value of fatty acids found in the blood. Omega-3 has many benefits because they are the primary building blocks in your cells. EPA is dominant in blood, muscles and tissue, while DHA is dominant in brain, sperm and eyes. In the test report, the ideal range is 8% or more. European Food Safety Authority (EFSA) claims that EPA and DHA are contributing to the maintenance of normal heart function. DHA also contributes to the maintenance of normal vision and maintenance of normal brain function.
Cell membrane fluidity index

The ratio between saturated fatty acids and the marine Omega-3 essential fatty acids eicosapentaenoic acid (EPA) and docosahexaenoic acid (DHA) is indicative of cell membrane fluidity. The more saturated the fats are in a membrane, the more rigid is the membrane. Conversely, the more polyunsaturated the fats are in a membrane, the more fluid is the membrane. Cell membrane composition and structural architecture is critical for the health of the cells and hence the body. On one hand, the membrane needs to be rigid enough to provide sound cellular structural architecture. On the other hand, the membrane needs to be fluid enough to allow nutrients in and waste products out. This index should be below 4:1.
Mental strength - dietary index
This is the balance between Omega-6 (AA) and Omega-3 (EPA+DHA). A sufficient supply of marine Omega-3 fatty acids, DHA, in the diet contributes to the maintenance of a normal brain function. Daily administration of 3 g of marine omega-3's EPA and DHA for 3 months significantly decreased feelings of anger and anxiety among users compared with the placebo group in a study. Several other clinical studies show that cognitive performance improves with increased anti-inflammatory consumption of marine omega-3 EPA and DHA. Childhood and old age are two critical and vulnerable stages and Omega-3 deficiency is associated with learning and memory deficits as well as mood. This Index should be below 1:1
Omega-6 arachidonic acid (AA) formation efficiency
This shows the efficiency by which your body converts Omega-6 (AA) fatty acids, from food in your diet into the essential fatty acids Omega-6 (AA) in your body. If you have less than 30% efficiency, you are recommended to include food in your diet that is high in AA, like chicken, turkey, pig and farmed salmon.
VITAS is a GMP certified chemical analysis contract lab, with 20 years experience in providing a high quality, custom chromatographic analytical service based on cutting-edge knowledge and technology - analyze the sample to determine your fatty acid profile as a reflection of your diet. The dry blood spot test method uses drops of blood collected from a fingertip and has been compared to the conventional method of lipid analysis based on the withdrawal of venous blood.
Thus, this new method for the analysis of fatty acids profile in the blood is applicable to nutritional studies. The 11 fatty acids are: Palmitic acid (PA), Stearic acid (SA), Oleic acid (OA), Linoleic (LA), Alpha-Linolenic acid (ALA), Gamma-linolenic acid (GLA), dihomoGamma-linolenic acid (DHGLA), Arachidonic acid (AA), Eicosapentaenoic acid (EPA), Docosapentaenoic acid (DPA), Docosahexaenoic acid (DHA). Learn more at
www.zinzinotest.com
.
Vitas - Who we are
Certificate Vitas - Declariation of Independence
Preventative Health at Lillestrøm Sports Club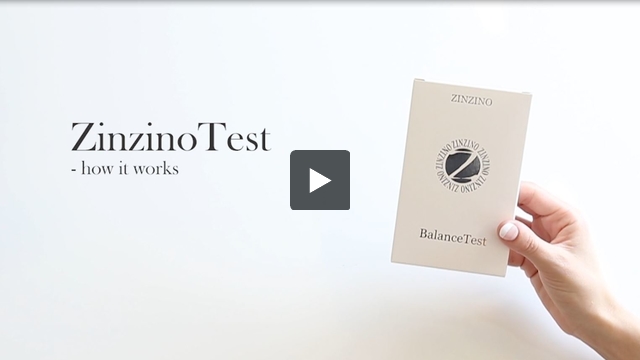 At-home testing has never been easier. Begin by registering your BalanceTest ID at zinzinotest.com, then perform these quick and easy steps to collect your sample.

1. Wash your hands with soap and warm water.

2. Clean the tip of your middle finger with the alcohol wipe.

3. Place the lancet against the lower part of your fingertip and press it firmly on your finger until you hear a click.

4. Hover your hand over the sample card without touching it and squeeze your finger once.

5. Add several (a minimum of 3) free dripping blood drops to each circle marked on the sample card. The blood should completely fill the inner part of the circles.

All done! Let your sample dry for 10 minutes and bandage your finger if needed. Place your sample in the bag according to the instructions. Don't forget to post it within 1-2 days to ensure its freshness.

Order and subscribe to one or more Premier Kit and enjoy exclusive discounts right across our range.