Elisabeth Forsmo
Zinzino Customer
Welcome! I have had great experiences with my products, and I think you'll love them too. Let me know what you think!
Health
• Thursday, April 28, 2022 • 5 min
Do I need to take a blood test before using supplements?
By Zinzino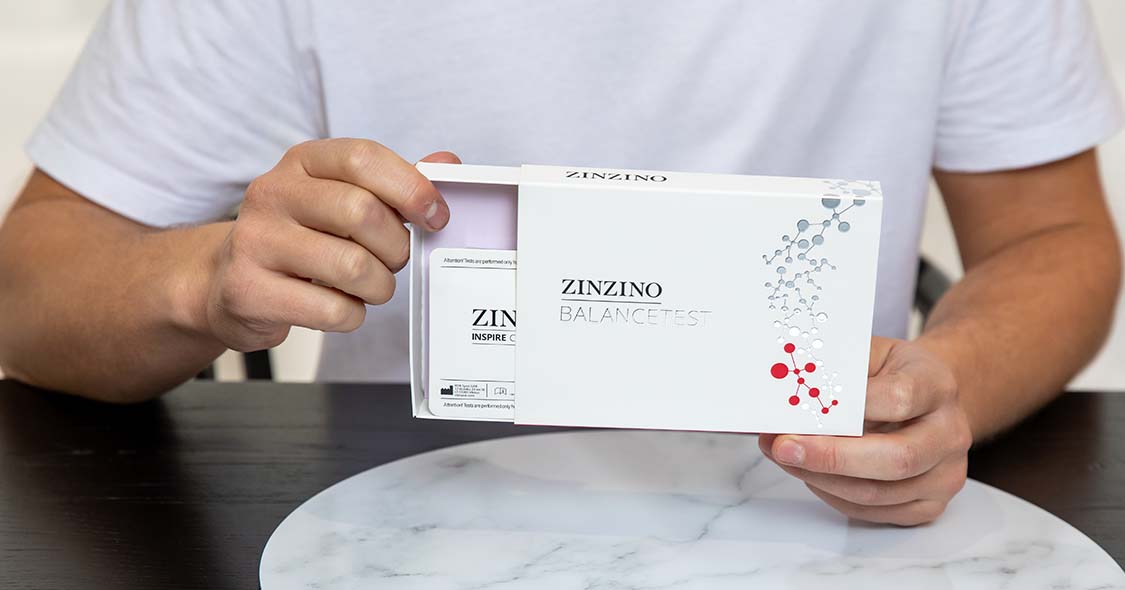 Every body is different. No one rule applies when it comes to good health. Your lifestyle, nutrition and genetics all influence your overall health status.
You'll have varying needs throughout the year and at different stages in life. Personalized nutrition takes the guesswork out of living well – putting you in an empowered, informed position to make decisions about your lasting health.
The BalanceTest, from the global health and wellness brand Zinzino, is a confidential, anonymous, and scientifically based dried blood spot test, easily completed in the comfort of your home. It is a simple and effective way to stay on top of your essential fats and your current Omega-6:3 ratio, and allows you to tailor your food supplement needs accordingly. Re-test every four months to compare your before and after status, monitor your progress and get proof in writing that the supplements have an effect in your body.
What is the BalanceTest?
Getting a comprehensive blood test to reveal your unique fatty acid profile is a meaningful way to understanding your current health status and the impact your life choices make. The BalanceTest measures 11 fatty acids in the blood, including your essential Omega-3 levels, and provides you with six different health markers based on your Omega-6:3 reading to track your health and nutritional needs.
The test only takes a few minutes, the analysis is independently managed, and your results are ready within three weeks. Apart from vital insights into the Omega-6:3 balance of your diet, the report also reveals your body's Omega-3 Index, Protection Value, Cell Membrane Fluidity and Mental Strength. You will get detailed, individual recommendations on how to achieve a better balance in life through diet and exercise. Use your test results as a reference point in your health journey to rebalance your body with high-quality Omega food supplements such as BalanceOil+. This food supplement has 18 EFSA-approved health benefits that contribute to normal brain, heart, and immune system function.
500 million people are taking Omega-3 supplements today and Zinzino's database of fatty acid dried blood spot samples is one of world's largest. 97% of the people who take the BalanceTest discover Omega-6:3 ratios that are out of balance until they start using or switch to BalanceOil+.
What is being tested?
The BalanceTest provides you with accurate readings of 11 fatty acid levels in your blood. These include Palmitic acid (PA), Stearic acid (SA), Oleic acid (OA), Linoleic acid (LA), Alpha- Linolenic acid (ALA), Gamma-linolenic acid (GLA), Dihomo-gamma-linolenic acid (DHGLA), Arachidonic acid (AA), Eicosapentaenoic acid (EPA), Docosapentaenoic acid (DPA), and Docosahexaenoic acid (DHA).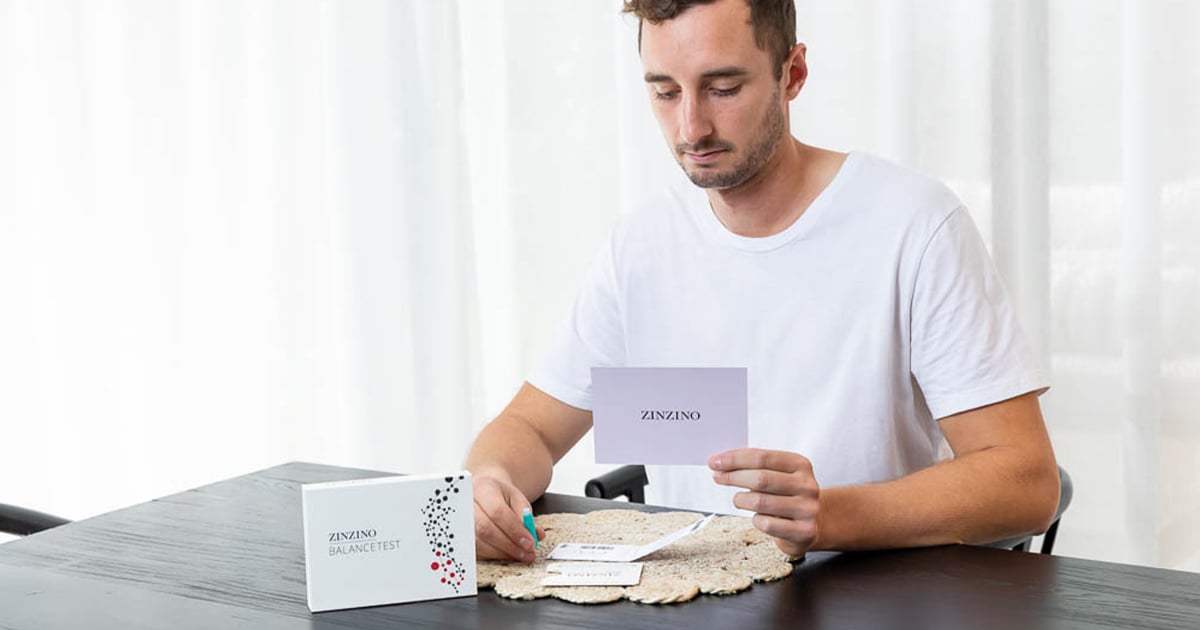 How to prepare for the BalanceTest?
You can take the BalanceTest anywhere and at any time, as you don't need to fast. For optimal results, when you re-take the test, try to set it up in the same conditions as the first time. Taking the test should only take a few minutes and the instructions are intuitive and easy to follow. Make sure to read them carefully from start to finish before you begin.
Pick a time that's most suitable to complete the BalanceTest. Wash your hands and choose a fingertip that you also clean well with the enclosed alcohol wipe. Prick your finger with the lancet and leave a few drops of blood on the filter paper. Air dry blood spots for 10 minutes before inserting the sample card into its case. Take a photo of your unique Test ID code and register it anonymously online, before sending off your sample. For more information about Zinzino's Omega-3 blood test kit process, visit zinzinotest.com.
Understanding your results
After 10-21 days, you will receive a text message that your confidential blood sample has been analyzed, and you can now log into your profile at zinzinotest.com for the results. Your readings will be displayed in an easy-to-understand format, with graphics, percentages, and color coding. Remember that the state of our health is not static and you need to re-take the test after 120 days, the time span for our red blood cells to regenerate, to stay on top of your current health status.
The test report includes personalized recommendations and guidelines on how to restore the essential Omega-6:3 balance in your body to empower your health journey, including specific dietary advice such as increasing intake of foods with Omega-3 and reducing Omega-6 fats. Use the food suggestions to guide your nutritional choices, alongside your daily intake of BalanceOil+.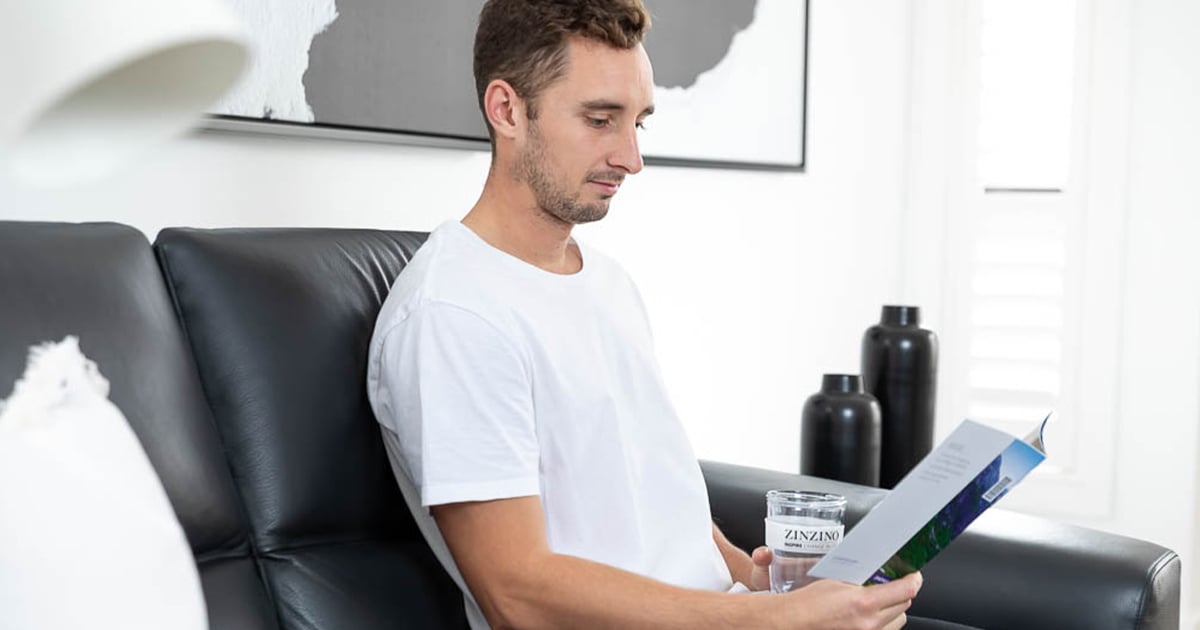 What is the Vitamin D Test?
The Vitamin D Test is another at-home, dried blood spot test in the Zinzino scientific and individualized test portfolio. It allows you to monitor your levels of the 'sunshine nutrient' throughout the year and determine whether you need nutritional support to improve your vital vitamin D levels.
Your personal vitamin D status is constantly changing, along with lifestyle and seasonal variations. Test your levels every four months, especially if you live in a colder area with long winters. The Vitamin D Test makes it easy to maintain your optimal levels.
What is being tested?
The vitamin D blood spot test captures the vitamin D levels in your body from food, supplements and skin synthesis, to determine if your levels are too high, just right or too low. While there are multiple ways to discover vitamin D levels, the most accurate method is a 25-hydroxyvitamin D test. It measures the 25(OH)D, also called calcidiol, in your blood. Vitamin D must go through several transformation processes before your body can use it and Calcidiol is the form that your body first converts vitamin D into when it gets to the liver.
Why do I need the test?
Worldwide, more than one billion people are estimated to have a vitamin D deficiency*. This nutrient contributes to a normal immune system, bones, joints, muscles and teeth. With up to 80% of our vitamin D absorption from the sun, it's important to consider how much time you spend outdoors, as the sun is a natural source of vitamin D. Your lifestyle, age, clothing, sunscreen routine, skin type and even where you live may compromise your body's ability to produce vitamin D from the sun.
During the winter months when our bodies are not able to make vitamin D from the sun, we need to rely on food or supplements to maintain our levels. Just like the fatty acid profile, our vitamin D needs are unique. Vitamin D testing makes it easy to monitor your status and adjust it naturally with the help of ZinoShine+ – a natural food supplement that combines vegan vitamin D3 in its most bioactive form from wild-harvested lichen, and broad-spectrum magnesium.
How to prepare for the Vitamin D Test?
There's nothing specific you need to do in the lead-up for your at-home vitamin D test. You don't need to fast. There are easy-to-follow instructions in the kit which walk you through the simple steps to complete your test in a few minutes. This includes taking a photo of your unique Test ID Code, washing your hands, stimulating blood flow with movement, and inserting the lancet in a fingertip. Fill the circles on the filter paper with blood and leave the sample card to dry for at least 10 minutes.
Read the full set of instructions before using the Vitamin D Test kit. For more information, visit zinzinotest.com.
* Source: an evidence-based clinical review published in The New England Journal of Medicine