Vi sørger for at du får de beste produktene...
Zinzinos Vitenskapelige Råd
Du og din familie fortjener kun de beste ingrediensene, som er satt sammen for å gi de mest effektive resultatene og baserer seg på den mest relevante forskningen. Zinzino gir deg alt dette, ved hjelp av vårt velrenommerte Vitenskapelige Råd. Disse personene har noen av de skarpeste hjernene innenfor velvære og ernæring, og gir selskapet råd om hvordan vi kan lage de beste produktene for deg.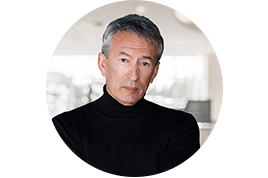 Dr. Paul Clayton
Dr. Clayton er en pioner innen forskning på de farmakologiske effekter av til matvarer og botaniske ingredienser – og hvordan de påvirker helsen og den fysiske ytelsen. Han tok doktorgrad i nevrofarmakologi ved universitetet i Edinburgh. Han er tidligere styreformann for Forum on Food & Health - Royal Society of Medicine.
Dr. Angela M. Rizzo
Professor i Biokjemi ved University of Milan. Ekspert i biokjemiske lipider.
Mr. Ola Eide
Grunnlegger og medgründer av flere selskaper, inkludert BioActive Foods AS. Han har mange års erfaring som gründer og fra internasjonal styrevirksomhet. Han har jobbet som innovasjonsdirektør i Mills DA og som utvikling- og forskningsdirektør i Tine Meierier i flere år.
Dr. Abraham Anantharaj
Dr. Abraham har over 40 års erfaring innen helse- og ernæring. Han var ferdigutdannet lege i 1974 og har erfaring både innen offentlig sykehusvesen og i ulike medisinske disipliner. I 2016–2019 arbeidet Dr. Abraham som Medical Advisor for Nestlé Malaysia.