Health
• 30 January 2023 • 3 min
How to get your 10,000 steps a day in seven realistic ways
By Zinzino
If you've got an iPhone, the Health app comes installed by default. For the most part, you've got your phone on you all day, so it's a great introductory tool to monitor and know how many steps a day is healthy. Although, it does miss those little steps that compound throughout the day, as you walk around without your phone in-hand. Don't panic if you open app at the end of an active day and your step count is lower than you expected.
While walking to exercise has its benefits, the reality is, our modern lifestyle isn't conducive to walking 10,000 steps a day, especially during a pandemic. Life has changed dramatically in the past year. We're bound to our homes more than ever and need to be more creative than ever to stay active.
Walking to exercise: Start by putting one foot in front of the other
The key is to choose a step count that feels right to you when asking, How many steps a day should I walk? Aim for 10,000 steps but if that's not realistic, set a number that you know you can achieve. The power is in the habit and once you've done a couple of weeks reaching your daily step count, the momentum will carry you there. Focus on small, incremental changes, not lofty goals.
Need help putting one foot in front of the other? Start with a one-week challenge following these seven tips.
1. How to get 10,000 steps a day: Track all of your daily steps
Grab yourself a Fitbit or smart watch, so you can get clear on how many steps you're really taking each day. You want to capture every single one, even around the house. Yes, even those 50 steps to the bathroom and back. They add up surprisingly.
2. Walking exercise social benefits: Catch up with your BFF
Got a close friend nearby? Make a weekly commitment to make movement part of your time to catch up. Ask your friend to get a smart watch too, so you can sync up and support each other. This turns 'exercising' into a 'BFF time'.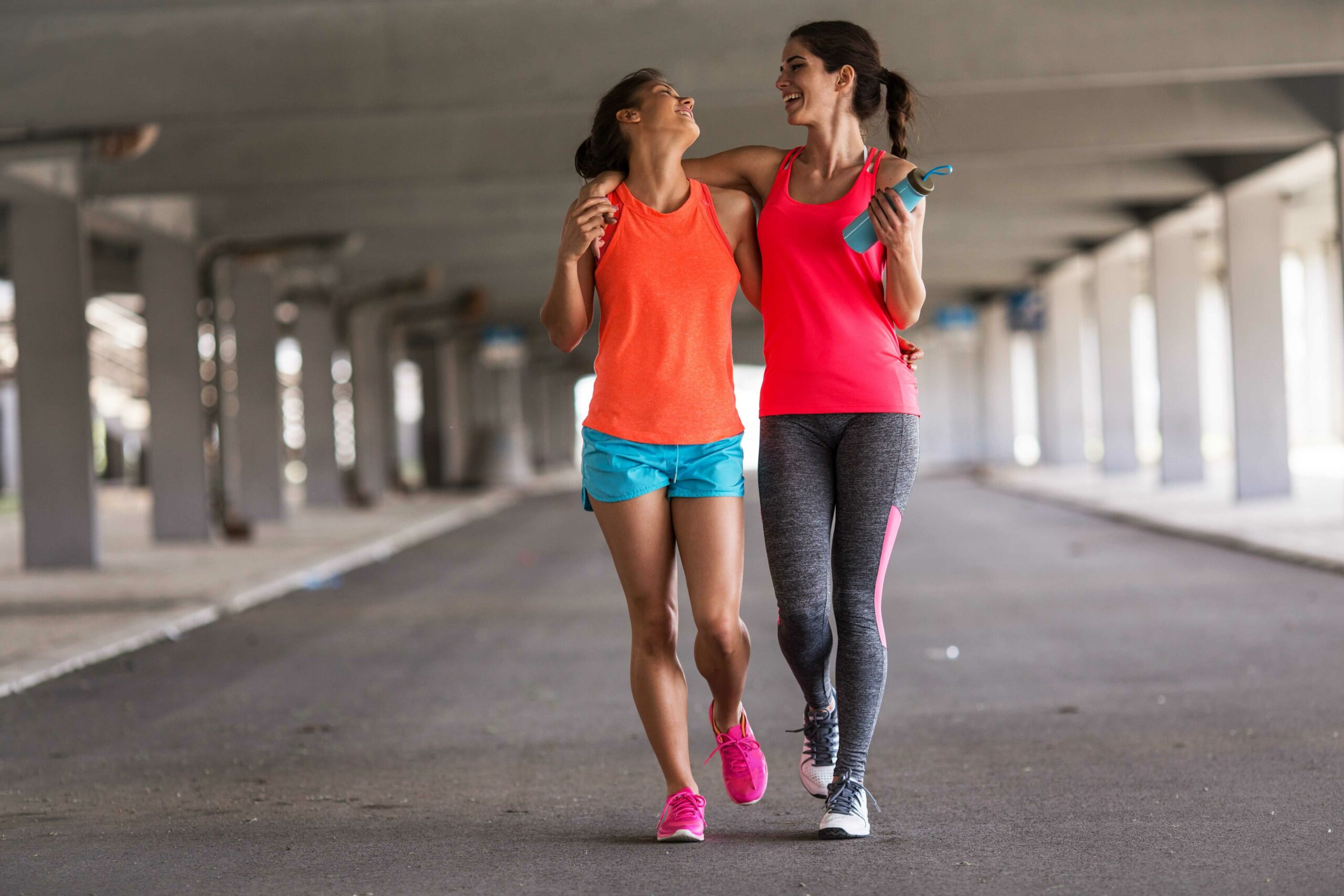 3. Leave the car when going to the supermarket
Even if you're working from home, find a reason to walk outside every day. Leave the car and take a walk to the supermarket to pick up fresh food for dinner. Use your errands as an opportunity to get more steps.
4. Get a dog
You don't need to be motivated to get steps when you have a gorgeous little puppy. As a dog owner, you'll get steps without trying. Take pooch out for 'bathroom breaks' to burn off energy and interact with other dogs. It'll make walking to exercise an enjoyable part of your day, too.
5. Ask yourself how to get a few more steps in today?
Having this question in the back of your mind will help you make more conscious decisions. Is your favorite restaurant or shop a 10-minute walk away? Don't take the car or call a cab, walk there. And skip all elevators, walk up the stairs.
6. Do a morning coffee run!
Coffee lovers, this one will be easy to do. If you have a local café that's become part of your morning routine, walk there before you start work. You'll love feeling part of the community (and looking at your step count) after this morning habit.
7. Let fresh air be your afternoon remedy
While coffee sets you up for a productive morning, a walk in the fresh air is the perfect 3pm-slump remedy. When you're feeling fatigued, take a little wander and get some steps in. It's also a good way to get all your walking in, at once. Mix up mini wanderings throughout the day with an hour long walk to get your heartrate up. Put on a podcast, listen to music or tune yourself with the sounds of nature. Before you even know it, this time will soon become sacred – not something to-do, but rather to look forward to.
You can do this. One step at a time!